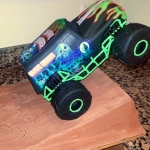 Gravedigger the Monster Truck is quite popular among kids of all ages! The following is a pictorial of how we made Gravedigger!
Most important is the structure!  We built ours after the 1:10 scale toy. Gravedigger is 15″ long x 6″ wide body. A support at the back was added so the cake didn't slide off. Also notice the void at the front of the ramp…we filled that with extra cake!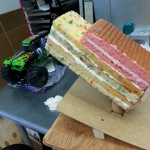 Cake was torted and filled the day prior to the build to make it easier for stacking. Cake boards are used to prevent the cake from sitting on the wood structure.  You can see Gravedigger toy model in the background.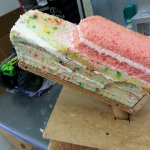 Fenders, hood, frontend and top were carved using a long serrated knife.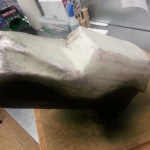 We completely buttercreamed the cake and the body and wood structure then airbrushed the bottom half black.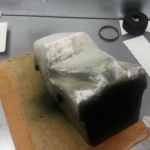 In this front view you can see the 5″ rice crispy treat tires in the background.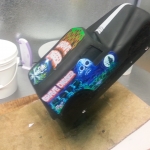 We cut out the windows with thin fondant sheets, then covered the whole cake with black fondant. Trimmed the fondant away from the windows and and trimmed the wheels wells, fenders and around the body. Made and applied edible images of the gravedigger decals.
And finally, we added all the fondant accents, like the hood trim and green flames, the suspension and shocks were done using tip 10.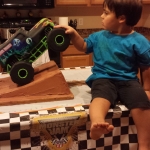 You know when You have done well when the birthday boy want to know where to push the button 🙂
Turn you special event into an extraordinary memory with a Wedding Cake, Party Cake, Candy Buffet or Chocolate Fountain from CC's Sweet Sensations! 602-882-9227